American Curriculum
November 10, 2020
2022-05-12 7:49
American Curriculum
The American curriculum is a standardized one. There are six accreditation authorities for the American curriculum, like the Middle States Association of Colleges and Schools (MSACS) and Western Association of Schools and Colleges (WASC). All subject content of the curriculum abides by the Common Core State Standards. Apart from the curriculum being a standardized and systemic one, it also focuses on an all round development and extra curricular activities. Activities such as sports, performing arts, music are encouraged as part of the curriculum itself to ensure the learning of essential life-skills among the students.
The United States of America imparts education via public, private or home schooling.
Public schools: The state governments set standardized methods of learning for public school systems.
Private schools: Private schools are free to determine their own curriculum and receive voluntary accreditation available from independent, regional authorities, although some state regulations may apply.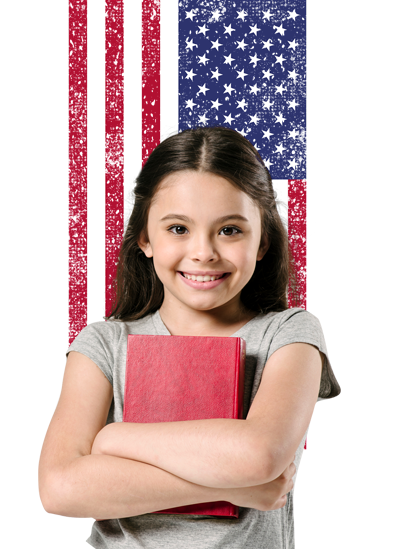 Everything is in Acadeos
Three Stages Of American CURRICULUM
The American system of education is divided into three stages: Elementary school, middle school and high school.
The American High School Diploma is awarded at the end of secondary school, on the successful achievement of a certain amount of credits from grades 9-12th. The American High School Diploma is also accepted as a pre-university qualification to gain admission into universities across the United States, and the world.
Acadeos is here to help you shine through this all, and be your guide. We, at Acadeos, aim to inspire and motivate—so that each student can perform to the best of their ability. Our methods of study have been evolving with the demand of the times, and we offer a flexible schedule to our students. They can seek guidance as per their convenient time, and have full access to study materials, anywhere and everywhere. We also allow multiple courses to be taken up by one student at once. Students can opt for a total of five courses to ensure full development of their skills in areas more than one. We also see it to it that regular feedback is consistently rendered and all get full opportunity to track their progress, on a daily basis.
At Acadeos, we do not let you miss out on any areas which offer scope for improvement and pursue it with you, till you perform your best. We believe that every student is full of potential that needs to be unearthed and shaped, and that is exactly what we aim at doing. The American curriculum covers an all round development of a child and so does Acadeos. Our tutors pay specific attention to each individual child, so that none of them feel the lack of a mentor in their lives. We ensure a bright present, and a bright future for all our students- each brighter than the other.